Announcements
» Short fiction from Mr. Smolin which takes place at Norms on La Cienega.
» Mr. Smolin's 1st band The Wake remembered.
» Mr. Smolin's piece "The Fantastic Catch" on baseball, Tony Conigliaro, the Angels, Los Angeles in the 1970s, Taoism, and dad-wisdom now readable at Medium.com.
» Eric Wagner writes about The Miranda Complex and other things Smolin at Raw Illumination.
» Mr. Smolin is a guest on The Nowman Show.
» Mr. Smolin & Double Naught Spy Car's musical rendition of Finnegans Wake, Chapter 1 is now streaming live at the Waywords and Meansigns website.
» Nomenclature Records has released an excerpted single from Mr. Smolin's contribution to the Waywords and Meansigns Finnegans Wake Project, released in its entirety on 2/2/16. This instrumental selection is from the Mutt and Jute section of Finnegans Wake Chapter 1.
» Anomaly Press announces the publication of the first volume in Barry Smolin's fiction trilogy The Miranda Complex, the epic saga of teenage Lance Atlas and his angsty relationship with Miranda Savitch, played out against a cultural backdrop that includes an adolescent-eye view of the politics, film, literature, and, especially, music of the era, as well as a mythic rendering of Los Angeles in the 1970s.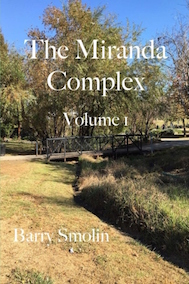 Listen to songs referenced in The Miranda Complex Volume 1 on Spotify:



A kind of literary jukebox . . .








Tweets by MrSmolin