Announcements
» Storytime with Mr. Smolin: My Lunch With Lautréamont, wherein a little green man relates his journey to the same old thing.
» Ring around the Rosary with Mr. Smolin in a musical meditation called The Five Decades. Mr. Smolin has also made available the solo piano tracks in a separate recording entitled The Four Mysteries
» Mr. Smolin's rhyming story for children of all ages, The Mole With A Hole In The Whole Of Him, is now out and available for your edification and/or listening pleasure. With cover art by Gary Baseman
» Anomaly Press announces the publication of Volume 3 in Barry Smolin's fiction trilogy The Miranda Complex, the epic saga of teenage Lance Atlas and his angsty relationship with Miranda Savitch, played out against a cultural backdrop that includes an adolescent-eye view of the politics, film, literature, and, especially, music of the era, as well as a mythic rendering of Los Angeles in the 1970s.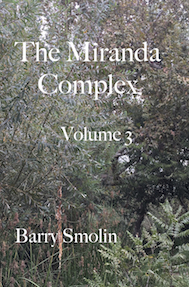 Listen to songs referenced in The Miranda Complex Volume 3 on Spotify:










Tweets by MrSmolin